Every bride-to-be should check out this floral kaleera trend
November 6, 2018
Kaleera is a silver or gold embellished, an umbrella-shaped ornament that is attached to the bride's chooda or bangle, which is a set of traditional red and white colored bangles worn on each arm. The bride's sisters and friends tie the kaleera to her chooda.
The significance is to provide good wishes to the bride and to remind her of her cousins and friends whom she is going to leave behind when she gets married. The bride is supposed to wear this chooda even after the wedding like at least for 40 days but sometimes the bride chooses to wear it even for a year.
This bridal accessory is no more synonymous to basic golden kaleeras. This timeless and traditional ornament has evolved over the years and brides are adding their own element to this as well. We spotted these floral kaleeras on brides that we actually loved and couldn't get enough of! Check out these kaleera trends now:
First of all, we love love love this bride's pastel pink lehenga with that V-drape style and her choice of jewelry as well which looks so modish and pretty. The kaleera obviously steals the attention with that white rose flowers which complement her pink lehenga so well.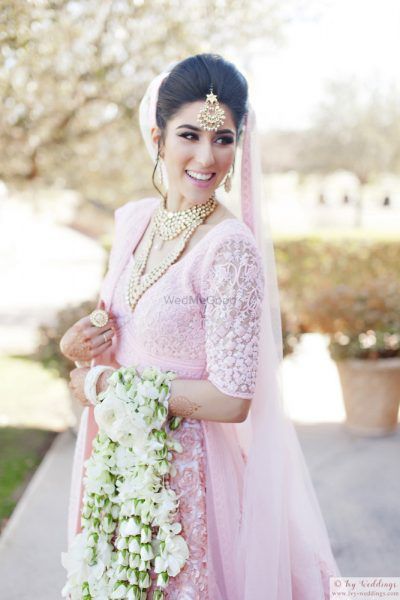 Ex-Miss India Natasha Arora opted to wear these gorgeous floral kaleeras on her big day and took her bridal fashion game to another level instantly. The white daffodils stole the attention with her pastel pink wedding lehenga.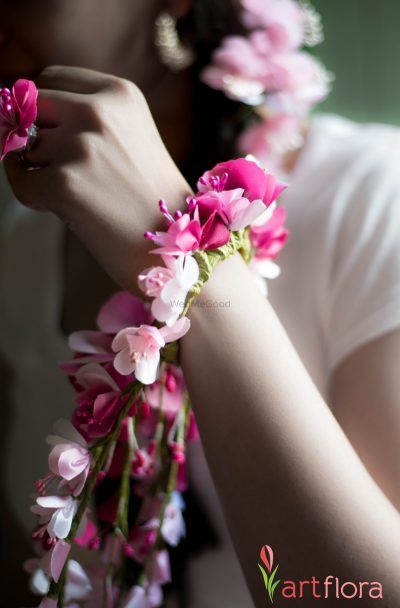 Ditching the traditional kaleera for something like this is a big step a bride can take! These floral kaleeras in shades of dark pink and light pink with a bit of green looks ethereal yet stunning!
This bride here looks like a piece of sunshine with that delicate mogra and white roses kaleeras and the pastel designer lehenga with that pop of mustard color in her dupatta that changes the overall look. We must say we love how she balanced the look by adding pearl haath phools and rings to bring a bit of glamour quotient to her D-day look!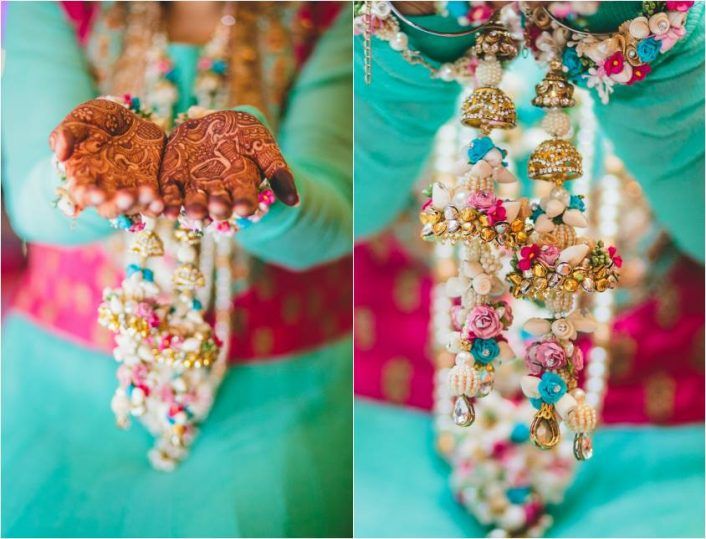 If you feel that floral kaleeras are too delicate for a bride like you on your big day then you can opt for this artificial floral kaleera which is a section of kaleeras that one can try experimenting. Love the offbeat ghungroos, pearls and artificial flowers and we think every 2019 summer bride should try this out!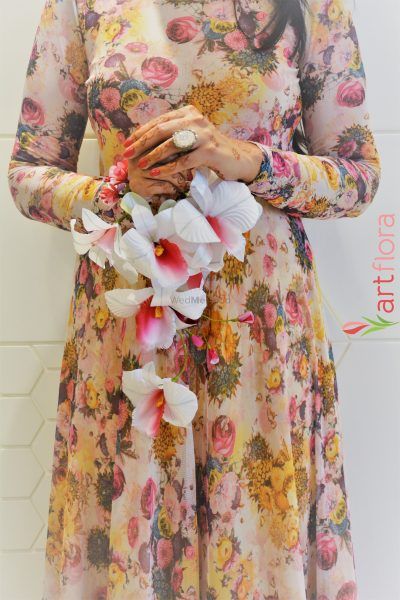 Floral kaleeras are becoming a rage these days and there's so much to choose from now that more and more brides are exploring this trend! We love this casual bride who wants to keep that romantic, delicate vibe to her kaleera with the orchids!
We can't get over this kaleera with the perfect combination of daffodils and beautiful white roses that are customizable according to your taste and outfit!
Floral kaleeras can never go wrong with gota bangles– every to-be bride should remember that! Love how the bottle green lehenga and the white and pink floral kaleeras and gota bangles go so well together!
Pro tip: Go for pastel lehengas if you want to try the floral kaleera trend at your kaleera ceremony and enjoy the limelight!
Written by: Shweta Sunny
You May Also Like
December 21, 2018
January 14, 2019
September 6, 2018