Monsoon is considered one of the most romantic seasons. However, commemorating ones love in the form of marriage during this season… is quite unlikely. 

Maybe monsoon is the only astrologically correct time for the bride and groom to get married. Maybe you've dreamed of a monsoon wedding your whole life, which puts you in a rather small minority of people. either way, we're here to make sure your wedding experience during the monsoon goes just as smoothly and no one is able to rain on your parade!
Here are a few selected ideas that you can incorporate on your wedding plans and not let the weather dull your spirits!
#1: The Venue
We've seen it along the years that outdoor weddings tend to be prettier, more extravagant and envious! But for our fellow monsoon weds, an outdoor wedding may not be the ideal choice.
To gain the best indoor wedding experience during this damp season, opt for large, open spaces.
A cool way to incorporate some of the nature from outside into your indoor wedding would be using glass doors or french doors that lead to the lawn. The glass doors also make the venue seem bigger than what it is and allows the natural scenic beauty to seep into the aesthetic of your wedding. One can also choose to take the bohemian route and add leaves and plants like ivy, around the venue to give it an earthy feel.
#2: The Outfit
The one perk of being a bride this season, is getting to experiment with the unorthodox colours. The wedding outfit is not limited only to the ceremony, it must be perfect for everything – right from when you put it on to when you take it off. If at all, the rain is an unwelcome visiter at your event, and you are unprepared or taken by shock, it won't be long, till your dream lehenga is ruined. A great tip would be to pick materials such as organza or net that are easier to dry incase of such mishaps!
#3: The Up-Do
The hot and humid weather, can take a toll on your hair and make it a frizzy explosion. Curb that by wearing a good amount of hair spray to keep your baby hairs and other tiny bits in place! Chose to wear your hair up for a sleeker look as well as to combat the frizz.
You can choose to accessorize with a classic head piece to go for a royal and timeless look.
#4: Take care of the guests
Your wedding must not be enjoyable to you alone, but to your guests as well. And it's your job to make sure that they're taken care of. So this time, along with party favours , give away a few essentials! During summer, sunglasses are very popular for give aways, so it's only right to give away chic umbrellas during monsoon. This will ensure your guests get home high and dry. 
#5: Photo Ops
The one thing that all you monsoon couples have an edge over any other season is the impeccable and wide ranging photo opportunities! So, a monsoon wedding isn't all that bad when it can give you the most coveted pictures, to store your memories in a timeless frame !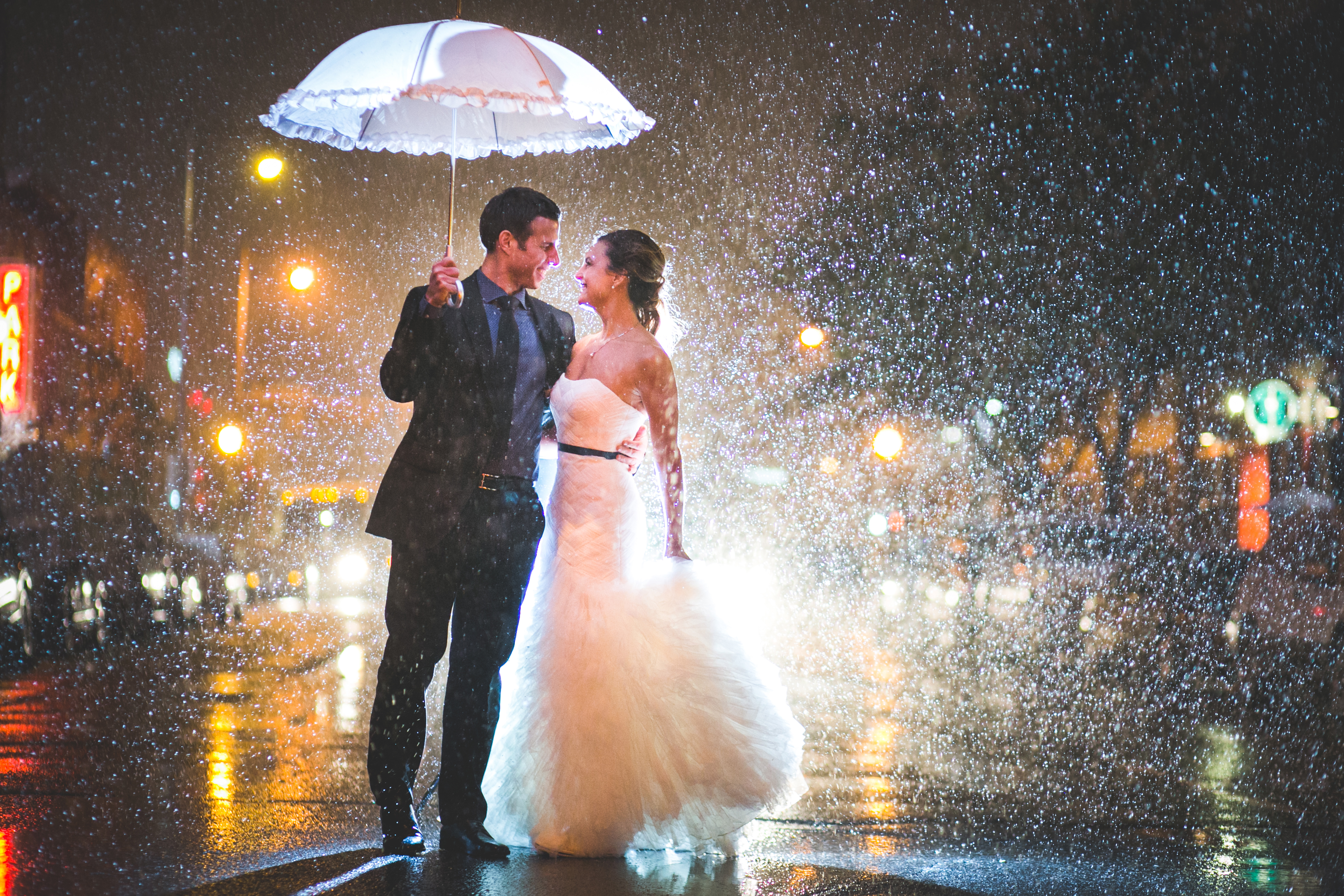 Another way to spice up pre-wedding events would be to organize a theme party where guests can come dressed, inspired by their favourite Bollywood monsoon-rain song! It's a great way to take advantage of the weather and have a little fun playing dress up!
So sit back, and enjoy this wedding season! You're now fully equipped to take on this monsoon wedding challenge!
For more beauty and style updates, life hacks and more, keep checking out our blog!